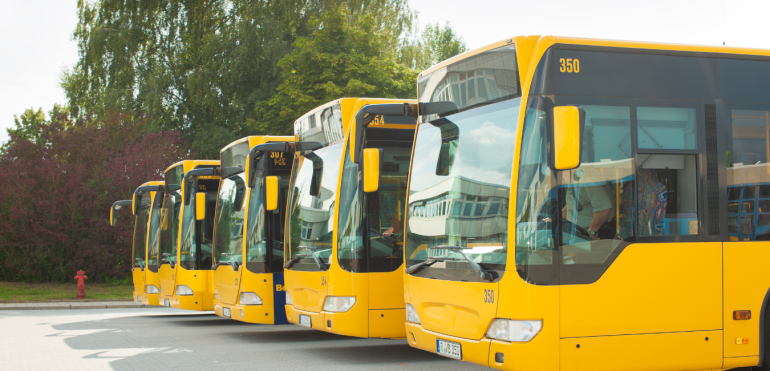 EU plans for emissions from trucks and buses
The Commission presented on 14 February its plans to tackle the greenhouse gas emissions from so-called 'heavy-duty vehicles' (trucks and buses). The proposed regulation aims at having zero-emission buses by 2030 and reducing the emissions of new trucks by 90% by 2040.
In a first reaction, green NGO Transport and Environment criticized these targets, urging the European Parliament and governments to set a 2035 zero-emissions target for new trucks.
European trade union organization industriAll welcomed the proposal but underlined that the new strategy should 'be based on a clean transport industrial strategy' and on 'Just Transition' principles. 'The proposed targets must be compatible with the time needed to convert existing production facilities and build new ones, to roll out charging infrastructure, to secure supply of key components and raw materials, to create lead markets and to train the workforce', industriAll said in their press release. 
The International Council on Clean Transportation (ICCT) expressed its satisfaction with the Commission proposal, saying the EU 'proposed world-leading decarbonization targets for trucks and buses'.
On the same day, the European Parliament endorsed the trilogue deal with the Council on the zero CO2 emissions standards for new cars and vans for 2035 (part of the 'Fit for 55' package).
Further reading:
EU electricity market reform
On 23 January, the EU Commission launched an open consultation on the fifth reform of Europe's electricity markets. The current electricity market design does not protect consumers against volatile price shocks as the price of electricity in the current system is based on the short-term price of gas. The consultation ran until 13 February, and the Commission is now expected to propose its actual reform plans on 14 March.
COP15 on biodiversity
The UN's Biodiversity Conference (COP15) in Montreal, Canada, adopted on 19 December a 'historic' agreement on the protection of the Earth's ecosystems.
The Global Biodiversity Framework (also known as the 'Kungmin-Montreal' framework) aims at protecting 30% of land and 30% of oceans and at restoring 30% of damaged ecosystems by 2030.
A detailed analysis of the key outcomes of COP15 was provided by Carbon Brief.
Further reading: